Contract Manufacturing, Contract Labor, Contract Manufacturer & Contract Packing
For over 20 years Lufapak has stood for highly efficient fulfillment management across industries and countries, while also being a competent service partner for contract manufacturing, contract packaging and logistics.
At Lufapak, a team of trained employees as contract packers in contract assembly (component assembly) and logistics ensures that order peaks at customers are cushioned, technical and personnel shortfalls at the clients are compensated for or simply offer an economically attractive alternative to in-house assembly and packaging for logistics. The contract work in the area of assembly, bonding, joining, plugging, tuning, riveting, milling, electrical assembly through control and testing work to the finished assembly and packaging.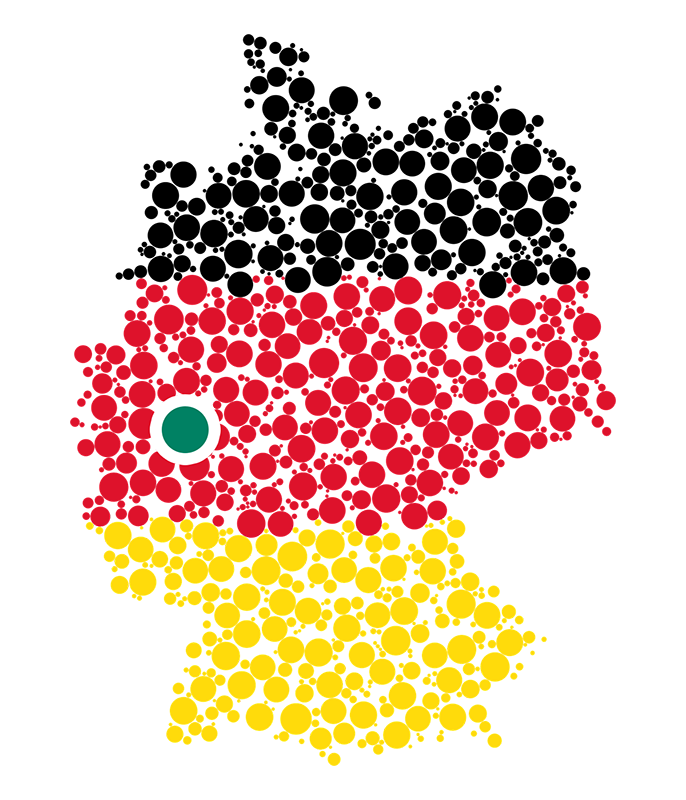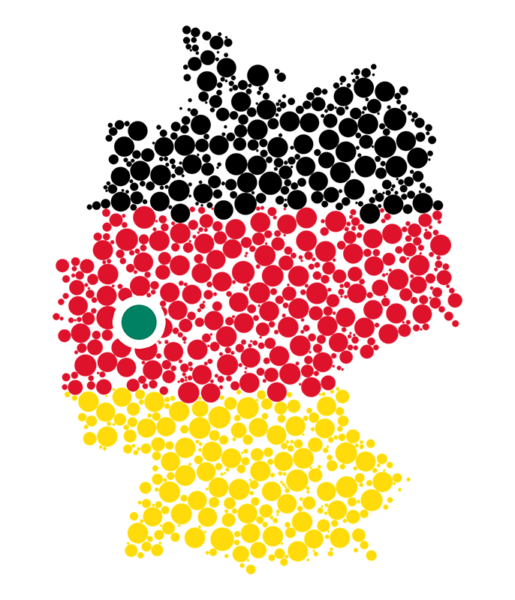 Germany-wide contract manufacturing from contract work to manufacturing to contract packaging
Our contract work is not regionally limited. You send us the goods to Neuwied, we pack and return Germany / Worldwide. The delivery times within Germany are mostly the same, no matter if 50km or 500km. Lufapak will gladly take care of the complete transport at favorable conditions.
When an item consists of several components, they usually come from different suppliers. Lufapak receives your goods, books them in and when all components for an order are together, the order (contract manufacturing) is started.
Request now without obligation
or read further and inform.
Whether there are partial projects or demanding complete solutions, Lufapak covers every aspect of contract packaging. Contract packers relieve customers' machines and employees, giving them the freedom to prepare and carry out new projects. Lufapak's certified contract packaging thus stands for flexibility and quality, whether in large or small batches, always customer and solution oriented.
Our customers entrust us with their products, which is the highest motivation and requirement for us. Therefore, all processes around assembly, contract processing and distribution are carried out by skilled and trained specialists as contract packers. The connection to the customer's supply chain (contract logistics) is individually designed, thus ensuring that errors and failures are virtually eliminated. Lufapak is dynamic: With every order, every customer, the order fulfillment is further developed and optimized – for the benefit of future orderers.
Your personal consultant around Lufapak Fulfillment

Contract manufacturing and subcontracting from professionals for all kinds of products
But Lufapak offers even more: As a globally networked logistics company, Lufapak ensures as a proven logistics dispatcher that products are specifically placed in the most important marketplaces of the globe and are constantly available there. The experience and qualifications of the Lufapak team, supported by modern IT, are the guarantors of optimal shipping and transport management, starting with goods entry and ending with packaging. In the in-house logistics center, not only the assembly, but also the solid repackaging and set formation of the goods can be carried out – and all this at fair low prices. All of these are the best prerequisites as a contract manufacturer for smooth processes and prompt handling of your contract work of all kinds.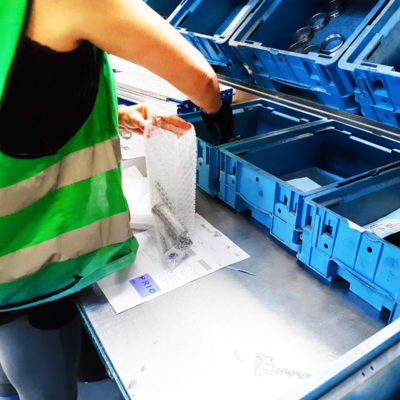 At Lufapak, contract manufacturing means the assembly and preparation for shipment of large and small series, ranging from partial assembly to the complete production of entire components. The spectrum ranges from very small parts to roof racks. For each product, the technically optimal and at the same time most economical solution is developed. Of course, housing construction and a thorough functional check round off this offer. This also includes contract packaging and co-packing for the best presentation of goods.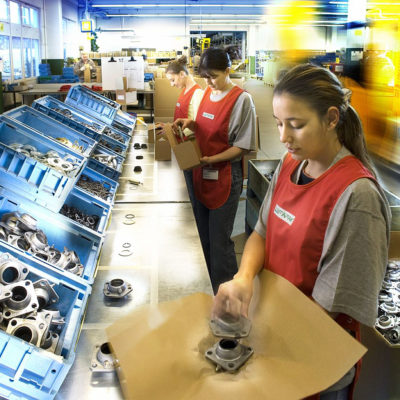 As a contract manufacturer, Lufapak puts all its experience in contract manufacturing at the service of its clients. Predefined and coordinated quality and production standards are consistently implemented in order to achieve the best possible results for the customer and the end consumer. This includes, among other things, contract sorting and contract packaging work. The use of qualified specialists ensures successful and economical project execution from conception to packaging and shipping.
As a picker, Lufapak is at the interface between the warehouse and shipping/logistics and ensures that processing is as fast as it is reliable, so that goods assembly, delivery and shipping are optimally integrated. This includes the structuring of an order as well as intelligent warehouse planning to exclude errors and ensure the fastest possible processing. This begins with weighing and counting, continues with sorting (contract sorting) and packaging, and ends with labeling, storage and shipping.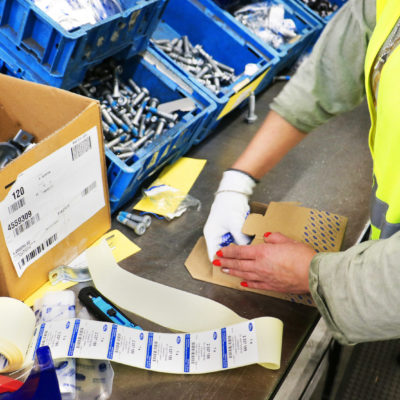 As a contract manufacturing partner, Lufapak offers its customers the benefits of high-quality manufacturing, while freeing up staff and technical capacity that would otherwise be tied up. Lufapak brings these resources to the collaboration, enabling an optimal solution in product quality, efficiency and profitability.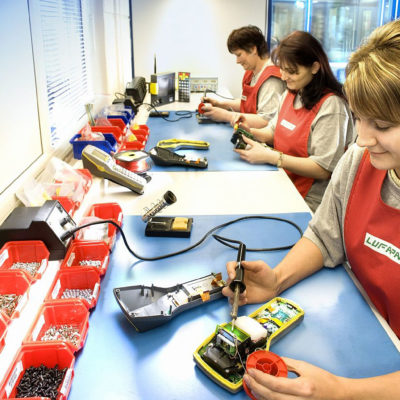 In contract assembly and subassembly, the tasks range from making and assembling cable harnesses and cable sets, including stripping the cables. Electrical and electromechanical components and assemblies can be assembled until they are ready for use, including the necessary housings and quality and functional testing. Closely related to this is also contract reconditioning.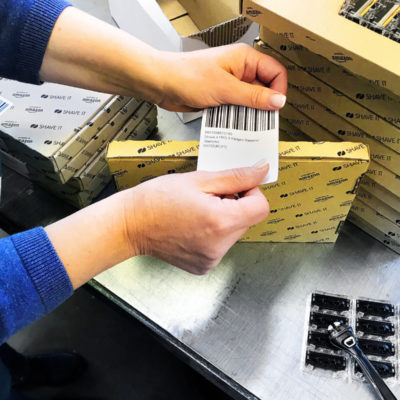 In case of contract packing Lufapak takes care of weighing and counting, labeling, sorting and packing of goods and materials. These are stored and prepared for delivery. Experienced employees and modern storage areas enable efficient, flexible warehouse management, which enables fast and customer-oriented order processing.
In addition, we also offer POS display construction with equipment for the presentation of goods.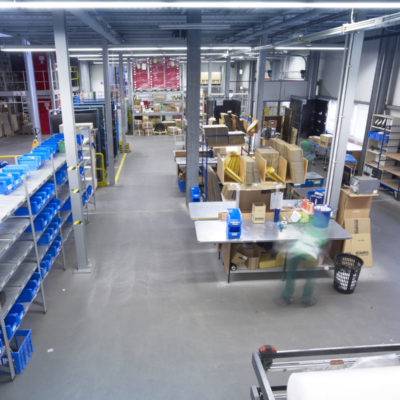 Binning (small parts storage) & set building (assembly + additional work) for e-commerce fulfillment and online retail
Fashion & Shoes
T-shirts / hoodies / sportswear / motorcycle clothing / shoes / boots / sneakers etc.
Technology & Electrical
Cell phone accessories / small appliances / electr. toothbrushes / radios / speakers / USB sticks etc.
Sports & Recreation
Sports equipment / skipping ropes / yoga mats / sportswear / life jackets / fitness etc.
Beauty & Cosmetics
Perfume / cosmetics / lip care / make-up utensils / creams etc. with minimum half-life tracking and batch tracking
Automotive
Spare parts for motorcycles, cars, trucks, etc. from small parts to whole axles and components
Jewelry & Accessories
Earrings / scarves / caps / watches / handbags / bracelets / necklaces / crossbags / work bags / backpacks
Books & Media Products
Books / Schoolbooks / Audiobooks / Catalogs / CD's / DVD / Blue Ray / Blueray player etc.
Non-fresh food
Cans / oils / beverage cans / nutritional supplements (supplements) in bags etc. with minimum shelf life tracking and batch tracking
Housewares / Garden Items & Deco
Cleaning utensils (sponges, etc.) / buckets / brooms / scrubbing brushes / detergents / gardening items / candlesticks, etc.
Toys
Children's toys / board games / outdoor toys / pencil cases / school bags / model making etc.
Lufapak Fulfilment stands for
Many years of experience in the field of contract packaging, contract manufacturing and contract processing
Certified quality in assembly, packaging and logistics services
Highly efficient quality and cost management
Relief of employees and machines at the customer (outsourcing)
Flexible cushioning of order peaks
Absorption of breakdowns, machine downtimes, illness, etc.
Economically attractive alternatives to in-house assembly and packaging
Wide range of packaging and labeling services
A worldwide logistics network with reliable and competent partners (CEP service providers)
Reliable and cost-effective work as order picker (Pick Pack order picking)
Let us advise you without any obligation and use the service around warehouse, dispatch and logistics

As a reliable logistics service provider, Lufapak has access to an efficient network of strong partners. Together, they ensure fast, punctual and reasonably priced shipping, even beyond the borders of countries and continents. The experts in the in-house logistics department ensure that customs and country-specific regulations are complied with. Reliable fee and document management ensures that there are no unpleasant and costly surprises when importing and exporting.
When it comes to packaging, Lufapak focuses on practical and economical solutions. In the packaging service, the optimal concept is developed in close consultation with the customer, even for small series. Special packaging is designed directly at Lufapak and is also tested for functionality and quality. This also includes attractive conditions for labeling and packaging. Sophisticated and modern labeling systems enable labeling or relabeling of entire product departments, tailor-made according to the requirements of the goods and the wishes of the client. This also applies to the labeling of hazardous materials or special components and electronics.
Lufapak thus stands for a globally networked and highly efficient fulfillment concept and contract manufacturer with modern warehouse and production areas. You too can benefit from the decades of experience of a renowned logistics provider + contract manufacturer and let us advise you and submit a quotation without obligation. Please consider us for any contract manufacturing order. We are happy to help you and at fair prices with low costs.